Press Photos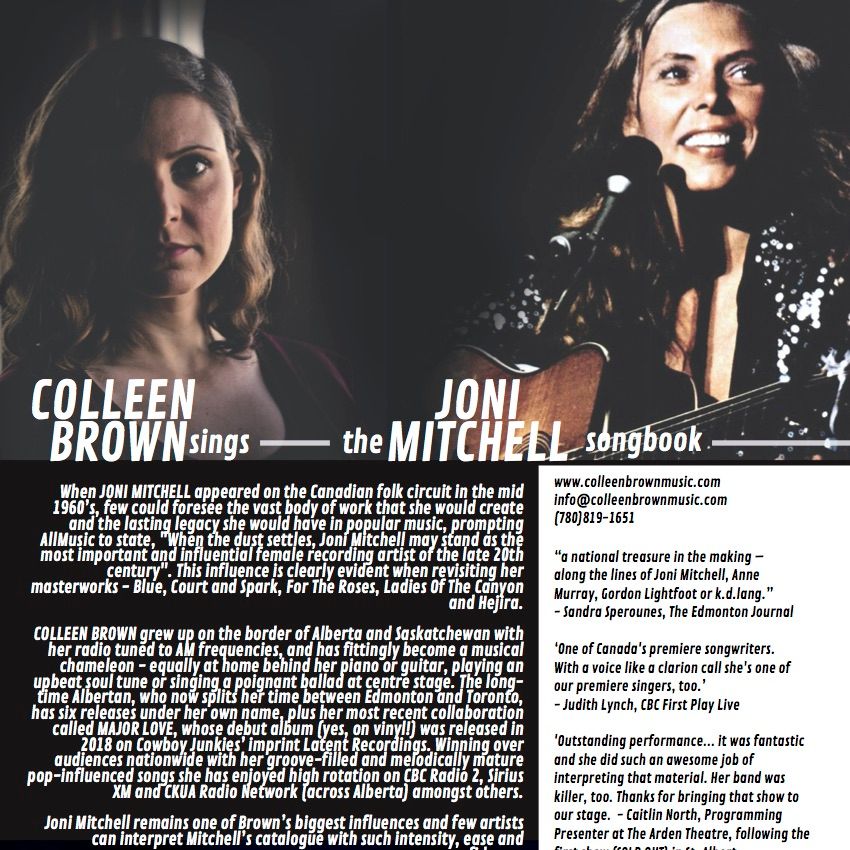 Colleen Brown Sings The Joni Mitchell Songbook
When JONI MITCHELL appeared on the Canadian folk circuit in the mid 1960's, few could foresee the vast body of work that she would create and the lasting legacy she would have in popular music, prompting AllMusic to state, "When the dust settles, Joni Mitchell may stand as the most important and influential female recording artist of the late 20th century". This influence is clearly evident when revisiting her masterworks - Blue, Court and Spark, For The Roses, Ladies Of The Canyon and Hejira.
COLLEEN BROWN grew up on the border of Alberta and Saskatchewan with her radio tuned to AM frequencies, and has fittingly become a musical chameleon - equally at home behind her piano or guitar, playing an upbeat soul tune or singing a poignant ballad at centre stage. The long- time Albertan, who now splits her time between Edmonton and Toronto, has six releases under her own name, plus her most recent collaboration called MAJOR LOVE, whose debut album (yes, on vinyl!) was released in 2018 on Cowboy Junkies' imprint Latent Recordings. Winning over audiences nationwide with her groove-filled and melodically mature pop-influenced songs she has enjoyed high rotation on CBC Radio 2, Sirius XM and CKUA Radio Network (across Alberta) amongst others.
Joni Mitchell remains one of Brown's biggest influences and few artists can interpret Mitchell's catalogue with such intensity, ease and confidence.